Inc. Magazine Awarded USAFact for the Third Consecutive Year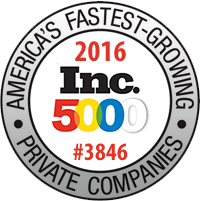 Inc. Magazine's 5000 Fastest Growing Private Companies In America Lists Pre-Employment Background Screening Company
The INC. 5000 fastest growing private companies has awarded USAFact as one of the fastest growing private companies in America for a third consecutive year. USAFact, a leader in the background screening and pre-employment business services, has over 38 years of experience in providing the most accurate employee screening services, allowing businesses to hire the best applicants for their business.
With the ability to services thousands of clients background screening, tenant screening, and loan verification needs through their RapidFACT, USATenant, and the new LendFACT online platforms, businesses are able to create a customizes solutions to meet each of their specific needs.
CEO Matt Davidson said "We are beyond honored to be awarded by the INC. 5000 for a third year in a row. This award is a testament to the work of all of the USAFact employees whose years of dedication to USAFact's clients has resulted in our own growth as well as our clients."
As one of the original four background screening companies in America, USAFact got its start as a small Private Investigation company that adapted its offerings into the background screening space. Being one of the original four background screening companies, USAFact quite literally wrote the book on background screening processes due to their extensive knowledge and experience in the industry.
For more information on USAFact visit their website http://www.usafactinc.com or call (800)-283-2463.
Established in 2007 with the goal of awarding the fastest growing private companies in America, The Inc. 5000 rankings are based on the percentage of growth over a consecutive four year period. To qualify for this award a company must be in the US, independent, privately owned and operated and cannot be a division or subsidiary. Companies provide INC 5000 with four years of sales and are ranked and awarded based on their revenue growth rate. For additional information on the magazine and the award visit http://www.inc.com/inc5000/index.html.